The Multiplier Effect
Level 1:  Leverage your content across multiple campaigns
Whenever you select or create content, design it to be re-purposed across several campaigns.  The more places you can use it, even if it has to be modified a bit, the more campaigns you can do at an overall reduced cost.
After you have posted your blog on your website, share it on other websites for traffic or SEO purposes.
Design articles as "chapters" so they can later be combined into an ebook when completed.
Create a PowerPoint for a webinar and then repurpose slides to create videos for your website visitors or graphics for your ebook.
Create videos for your website visitors and also promote them on Youtube for additional traffic.
Level 2: Leverage campaigns that have multiple benefits
Select a campaign with multiple inherent benefits for your business.
Press releases can generate awareness, traffic from news sites, and SEO ranking for your website.
PPC (e.g. Adwords and Facebook) can also do remarketing and SEO research.  If certain PPC keywords are very good at attracting the right prospects, you can start using those proven keywords in your organic SEO efforts.    If a prospect reviewed a product on your website but left without purchasing it,  you can use Google Adwords remarketing to follow them and display your text ads whenever they visit a website on Google's ad network, or, Facebook remarketing whenever they visit Facebook.
If you drive customers to a social review site to increase referrals,  or you participate in a social network and it's starting to generate leads,  then also invest in advertising on that social site to further increase new leads,  and potentially also see increased SEO ranking for your website due to social engagement.
Google + Local listing plus citations from multiple business directories will increase your ranking on Google+Local, increase traffic due to listings on multiple directories, and improve the ranking of your website.
Level 3: Leverage outsourced resources as soon as you can afford to
If you really want to create a viable business, you need to leverage your personal energy and time.  There's only so many hours in a day.  Is it more important that you promote the business or do link building for your website?
You need to focus on the critical aspects that will make your business successful, so outsource everything that is not critical to contractor specialists.
Outsource one-time projects like the creation of a logo, a trademark, on-page SEO analysis or an ebook cover.
Outsource monthly repeat projects like writing blog posts and product reviews, writing and distributing press releases, off-page SEO, or running a PPC campaign.
This strategy represents the most cost effective way to grow a business.  As incremental profit becomes available, it can be quickly deployed to generate even more profit.  More importantly, it allows you the ability to conduct multiple campaigns in parallel, increasing your chances of success.  Read this article about Growing Your Business.
Level 101: Take your business to a new level by automating your sales and marketing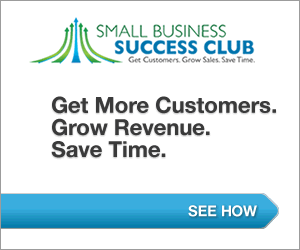 If you're not converting leads effectively, and not having customers and affiliates help generate new leads, you're really leaving a lot of profit on the table!
Not everyone is an impulse buyer.  Just because they left your site without purchasing doesn't mean they weren't interested.  They just may need more information and time.  If you follow-up with them, and continue to give them attention and information, they'll probably buy from you rather than a competitor.  If only there were more hours in a day you could do that, maybe.
Not all customers automatically become a repeat customer.  If you follow-up with them, and continue to give them attention and information, they'll probably buy from you rather than a competitor.  But continually calling them probably won't be very effective.
If you're selling multiple products online, and you're able to increase the average sale size by 20%, your company revenue will increase 20%.  If only your system could  automatically upsell those customers, get a customer referral, and generate new leads.
More than 9,000 entrepreneurs and small businesses are using software that can do this, and a lot more.  They are seeing dramatic increases in revenues and profit, proving every day that is affordable and effective for small business!
Download this Free Marketing Guide For Small Business to start learning how you can take your business to the next level!
Watch this online demo to learn how entrepreneurs and small businesses are using this software.